Make Opening Your Apex, NC Home's Garage Door A Breeze With Remotes & Keypads
It's ok. We understand. There's a little rush of power you feel when you press one simple button and something complex and amazing happens. It's like magic at your fingertips! With Grand Openings Garage Door, you can have that magic feeling every time you get home and park in your garage.
Our highly-trained technicians can outfit your garage door and opener with a perfectly convenient push-button or keypad entry system, or if necessary, repair your existing system when it's misbehaving. There are enough things to worry about in your day-to-day life; opening your garage door shouldn't be one of them. Our remote and keypad services can take that worry away.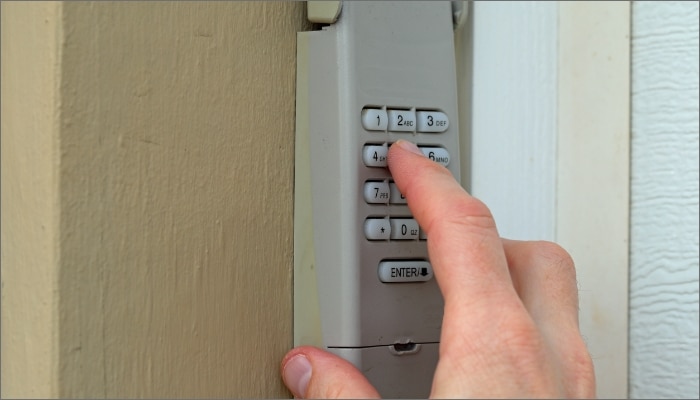 How Can A Garage Door Remote Or Keypad Benefit Me?
Obviously, the biggest advantage you get with a garage door opener remote or keypad is the convenience – press a few buttons (or even just one!) and your door opens or closes. But here are a few other benefits you can enjoy:
Remotes:
Portability – Many remotes are essentially key fobs you can carry with your keys, or simple units you can clip to your visor in your car.
Security – Modern remotes often have "rolling codes," which means the code your remote sends to open your door changes each time you use it, making it difficult for potential thieves to "spoof" and gain entry.
Keypads:
Redundancy – Having a keypad with a secure PIN to open your door protects your access if you accidentally misplace your keys.
Safety – Your PIN can be changed as often as you like, making your home more secure.
Ease of Access – Got a kid coming home from school while you're at work, or a friend dropping by to pet sit? Don't worry about handing out keys or remotes, just give them the PIN.
Ensure Your Remotes & Keypads Work As They Should
As with any electronic device, there's the potential for things to go wrong. While you're equipment should be reliable 99.9% of the time, when that 0.1% rears its ugly head our professionals are here to handle it. Not only do we install and set up your remote or keypad, but we can also repair them when things have gone awry. Don't go without the functionality of your garage door opener – call the experts!
Grand Openings Garage Door Is Your "Key" To Convenience
Garage door opener remotes and keypads make getting in and out of your home as easy as can be. We can help you choose the right solution for your door and opener style, and get it set up to your preferences. Send us a message online or give us a call at (919) 669-0532 today!