Don't Let A Damaged Garage Door Opener Open Your Wallet Too Much!
Crash! Clang! Kaput? …maybe not! If you heard a weird noise the last time you opened or closed your garage door, garage door opener repair by Grand Openings Garage Door is your most affordable option.
Why waste time trying to troubleshoot your faulty equipment when you can leave it to a professional? Our experienced technicians know that many problems sound worse than they are. Your best bet is to call us and let a reputable garage door service company right here in Apex, NC determine the next steps. Free estimates on every job mean you have literally nothing to lose!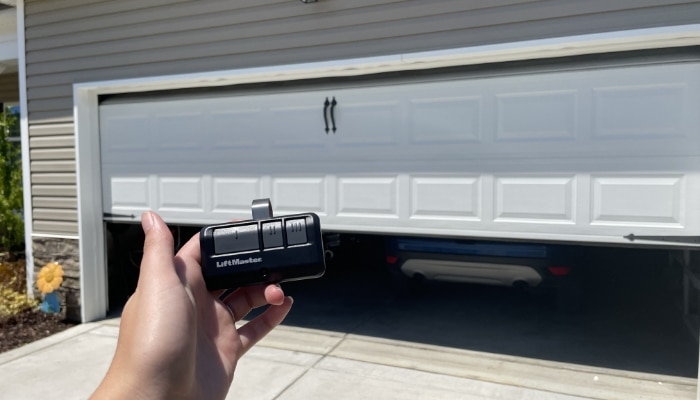 7 Common Garage Door Opener Problems
As you might guess, there are many different types of garage door opener repair jobs. Any of these situations could apply to you right now:
The door only goes down when you hold the wall switch
The garage door remote is not working
The keypad doesn't respond at all
The door opens and closes too slowly
The motor runs but the door is not moving
The garage is so noisy it wakes you up
You don't need to live with inferior quality. Our family-first team is standing by to fix your broken Chamberlain, LiftMaster, Genie, or other brand openers – and we can usually do it the same day you contact us! Why jeopardize the value of your home with a malfunctioning machine? Large or small, we repair them all! As a matter of fact, garage doors are all we do! Call the experts at Grand Openings Garage Door and let us show you your options.
Garage Door Opener Repair Is Not Something That Can Wait!
Noises? Limited motion? Is something actually busted? Your garage door opener is not going to magically fix itself the next time you try to use it. Truthfully, any problem with your garage entrance system will only get worse with repeated use. Don't live without the function and ease the garage provides. Call Grand Openings Garage Door at (919) 669-0532 or message us online for affordable and expert garage door opener repair.